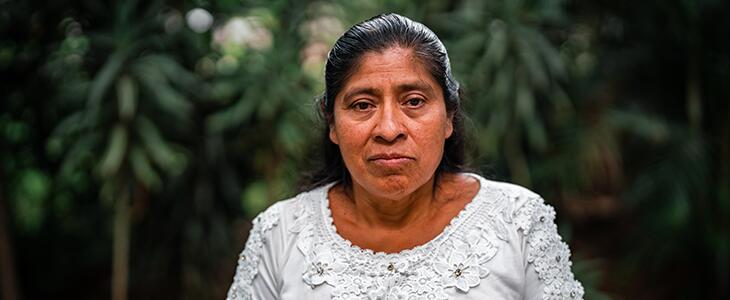 How many Christians are there in Mexico?
There are 129.6 million Christians in Mexico – they make up the majority of the total population, which is 135 million.
What does persecution look like in Mexico?
In Mexico, criminal groups struggle for territorial control. Christians are perceived (and rightly so) to be against criminal operations and violence, and are therefore at constant risk of being targeted for elimination. In rural indigenous communities, anyone who turns from traditional religious beliefs can face rejection and punishment in the form of fines, imprisonment, and forced displacement. As Christians hold fast to traditional, biblical views on issues such as abortion, same-sex marriage, parental rights and religious liberty, they become less tolerated in the public square. Non-discrimination laws mean that any links between Christian faith and politics are placed under very strict legal scrutiny.
Who is most vulnerable to persecution?
Criminal networks that have spread throughout Mexico act as drivers of persecution wherever the church is perceived as a threat to their interests. Mexico's southern states are the main areas for clan oppression, violating the rights of Christians inside indigenous communities. Church buildings have been vandalized by those who have a radical commitment to secularism and are opposed to any Christian values.
Meet "Pastor Imeldo"
When Pastor Imeldo returned from a few years living in the U.S., he was welcomed by his home village. He created a Bible study that grew to need a church building, which he built on family land. But when Christians came into town to meet at the church, officials closed it down and arrested Pastor Imeldo. After two days, the town's assembly ordered him to leave. He recalls someone telling him that day:
"Imeldo, you have to understand that we want to preserve our customs, we don't want what you bring because then our traditions will disappear."

Pastor Imeldo
What has changed compared to last year?
Mexican criminals were able to take advantage of the socio-political instability surrounding the COVID-19 crisis to reinforce and increase their territorial dominance, generating greater vulnerability (and increased violence) for Christians. The COVID-19 context also encouraged the indigenous community authorities to act more harshly against those Christians refusing to adhere to traditional customs. It's becoming more difficult for Christians to find a chance to express their viewpoints in the public square.
Mexican society seems to be increasing its commitment to secularism instead of pluralism. Often, Christian viewpoints are not welcome in the public sphere.
What does Open Doors do to help Christians in Mexico?
Open Doors is engaged in research and communication to raise awareness about the persecuted church in Mexico and to help the church cope with persecution. We also encourage advocacy to help address root causes of persecution at the local, federal and regional levels, as well as raise prayer support from the worldwide Church for persecuted believers. Finally, we develop training to help the Mexican church be aware of and respond biblically to persecution.
How can you pray for Mexico?
Pray for believers who face difficult choices when confronted with organized violence in their communities. Ask God to give them wisdom and courage to confront it in a Christ-honoring way.
Lift up those who come to faith in Christ in indigenous communities and find themselves ostracized as a result. Pray for their positive influence to turn the tide of this persecution.
Lift up those who come to faith in Christ in indigenous communities and find themselves ostracized as a result. Pray for their positive influence to turn the tide of this persecution.
Dear Father, so much violence can't help but impact everyone in Mexico and tear out the hearts of Christians who love and pray for their country. Give them clarity as they face this and protect their families from intimidation aimed at silencing them. Give indigenous believers courage to maintain their faith, even when their villages turn against them. Draw them together as a strong force of faith in those areas. Let Your influence permeate the country through the bold witness of believers who step forward with biblical standards. Give them graceful and persuasive words. In Jesus' name, Amen.
Download Summary Report